Local high school students and an undergraduate student had the opportunity to participate in independent research at the University last summer through the STEM Sisters program. STEM Sisters was a six-week program that pays students to do college-level research that they presented at a college symposium as well as an international meeting that was held virtually. Jamie Voylesassociate professor of biology, started STEM Sisters with funding from her National Science Foundation (NSF) CAREER Award with the goal of providing high-level research experiences to young, local women from backgrounds traditionally underrepresented in the arts. science.
"NSF CAREER Awards, by design, have heavy elements of research and education. They really encourage innovation in education and the marriage of research and education components. I designed STEM Sisters as I was writing this grant," Voyles said. "It was originally going to happen where I do my field research in Panama, but because of COVID-19 I decided to make it local and recruit local women from underrepresented communities."
Voyles studies frogs and disease and recently became co-director of the Resilience Institute Bridging Biological Training and Research which will examine how the ability of frogs to survive infection can shed light on disease resilience in humans. The students researched the impact of body temperature on the growth of microbes on frogs.
The program supported four undergraduate and high school students, as well as five graduate students who acted as mentors. Graduate students developed lesson plans and had one-on-one time with high school students. Students learned basic methods and information, then generated their own hypothesis.
Jennifer Rodriguez attends Wooster High School. His favorite parts of camp were learning to use the equipment and guest speakers that were a weekly camp opportunity. "The camp was able to teach me things that I wouldn't typically be able to learn in a school setting, like handling lab equipment and applying the findings of my experience to the world," Rodriguez said. .
"All the science they were doing was completely self-contained. They collected their own data, did their own analysis, and wrote it for a poster for a symposium and an international meeting," Voyles said. The meeting was held virtually due to the ongoing pandemic.
Jordan Gass was one of the graduate student mentors. She said her favorite part was watching the girls gain confidence in the lab. "When they start out, they're so insecure about themselves and their abilities, and by the end, they're comfortable performing science techniques, which makes them more comfortable asking questions. bigger and more exciting questions."
Ciara Sheets, another graduate student, said the most rewarding part was showing students that scientists are real people and "showing them what science is, while letting them know us as people with whom they can identify and feel connected. "
Voyles was supported by the NSF and the Department of Biology. The biology department provided the space and opportunity to host the program in their laboratory. Upward Bound helped Voyles identify ideal students from the community to participate.
"I was raised by parents who were really enthusiastic about my interest in science and who wanted to provide as many role models as possible when I was young so that we know science is cool and fun," said Voyles. "I don't think young women have enough. STEM can be so daunting, but science is an inherently creative process, so it's really fun. »
"I think being able to see yourself doing science work from an early age is crucial to really continuing that work. Interactive science programs help to 'pull the curtain back' on what a scientist is and allow young women to learn the confidence to dream and pursue careers in science," Gass said.
Voyles plans to seek additional funding to support another cohort of students, whom she hopes to bring to Panama, where much of her research takes place. The first cohort was supposed to be in Panama, but it was disrupted by the COVID-19 pandemic. Voyles hopes the next cohort can follow the same program in Panama, with the original cohort serving as mentors to new students. The students who participated last summer have maintained a working relationship with Voyles' lab.
"What I have taken away from this program is irreplaceable and truly one of a kind."
Ruby Pacheco, another Wooster student, said she feared she might not be competent at the start of the program, but the supportive and collaborative environment motivated her to keep going, even as the work got harder. She also enjoyed the connections she made with mentors and other mentees in the program.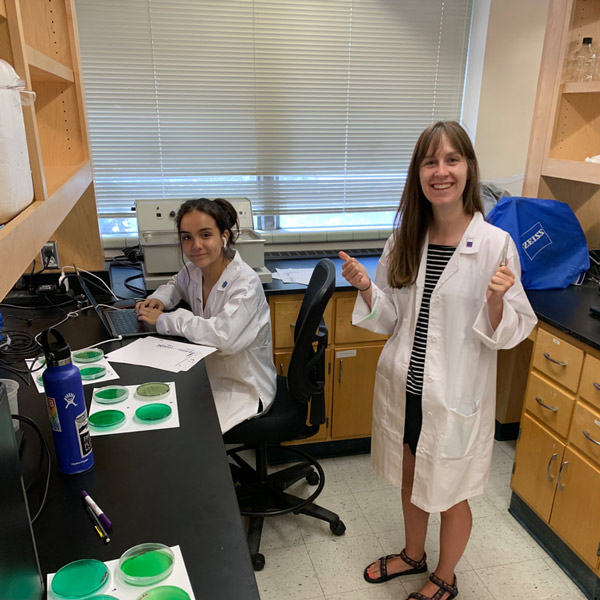 "Especially in more masculine fields like science, it was refreshing to see other dedicated and talented women each in their own way. Also, the Voyles lab clearly articulates their value of diversity and inclusion and that can certainly be described through the guidance of Jamie and the graduate students as well. I have the greatest admiration for everyone at the Voyles lab and thank them for giving me such an amazing experience. What I got out of this program is irreplaceable and truly one of a kind. I encourage others who might have concerns to get into science, to give it a shot," Pacheco said.
"I can't say enough how amazing these ladies are. They took it all on, had the courage to try it, dove deep into the scientific process, and were so determined. It blew my mind," Voyles said.