In this age of atonement—the age when old assumptions are viewed with skepticism—American musical comedy is under intense scrutiny. It's hard to imagine a show reimagined more effectively than Daniel Fish and Jordan Fein's Broadway production. Oklahoma!.
All around the light wood decor designed by Laura Jellinek and Grace Laubacher, guns hang above the heads of the spectators, who face each other on either side of the stage, as if ready to be mowed down . Daniel Kluger's re-orchestration stripped the lushness of the music, which is played by a string band on stage: country-twang, roaring in rock, making a chorus less cowboy-like than battle-cry, but able to blend in intimacy with People. Will Say We're in Love. Being a no-disguise production, for much of the evening the house lights are on, but Scott Zielinski's lighting plunges the action into total darkness for unsettling encounters and turns the air into an eerie turquoise. at the moment of fantasy. Hopeful young couple Curly and Laurey are last seen in wedding clothes, spattered with blood.
The murder that causes this ending has been altered, made even more sinister, but usually it's not a simple change but a re-emphasis that makes this Oklahoma! feel so new, with finely retuned performance core. As Jud the Lone Worker, Patrick Vaill haunts the action, onstage throughout, casting an alien eye over every hint of traditional dress-swish, chap-slap, pizzicato-pony- trot. Arthur Darvill's Curly and Anoushka Lucas' Laurey are less wholesome than sexy and sly. The triumph is to show that buoyancy is not separate from the darker aspects but depends on them.
There is subtlety in Liza Sadovy – fresh out of Cabaret success – and beautiful deadpan dim-wit from James Davis. And the gluttony. Marisha Wallace's glorious voice calls fans like a bell, transforming I Cain't Say No from comedic spectacle into anthem. Occasionally there is a nuance of self-awareness, of working too hard to press a point, but the detail is infallible. The ears of corn alone are worth a thesis: prepared for a picnic, they are greedily torn by one woman, carefully dissected by another. Oh, and waved like phalluses.
Reconstruction is the theme of this year's Brighton Festival, co-hosted by Syrian architect Marwa al-Sabouni and Tristan Sharps, artistic director of Brighton-based company dreamthinkspeak. Al-Sabouni has created a colonnade place on the front – the Riwaq, a pop-up space that oscillates between indoors and outdoors. Meanwhile Sharps's Release me weaves in and out of city buildings, aiming to examine the need for reconstruction of inner lives and social structures. If only the result were as dynamic as the company's dazzling reimagining of Hamlet 10 years ago.
Release me takes off from Dostoyevsky The Possessed, in which a revolutionary group with an unstable leader wreaks havoc on a city. Here the plot involves a fight for the heart of Brighton. A villainous leader figure, the governess, who rules the town for her personal gain, is challenged by a group determined that decisions be made by "the people"; but is their own leader reliable?
The spectators, treated as potential recruits and vulnerable to dangerous influences, are divided into groups and set off on different routes with the same destination. Each follows instructions on iPads (with warnings about infiltrators) and advice by "activists" who lead them through the pavilion gardens, through an underground tunnel (where a locked door is labeled "dirty laundry store") , in front of locked museum cases (described as "looted artifacts") and finally in the courthouse for a settling of scores between the governess and the opponents. Every once in a while you stop for a lecture: activists on government failures, or to hear an undercover cop talk about the unreliability of activists.
The threat level is low. The speeches are stilted. The geography is not surprising enough: it sometimes feels like taking 10,000 theatrical steps. Most damaging is that the audience, constantly gathered and harangued, seems to have the power of interaction and curiosity sucked away. The intention is presumably to raise questions about conformity and resistance: which path would you take? However, the alternatives are posed with such relentlessness and tenderness that they exhaust curiosity.
Only the final scene sparkles with the usual dreamthinkspeak illuminations. Gathered in the same room, the spectators watch videos of actors/activists giving testimonies on radicalization. Behind them, windows overlook the streets of Brighton and unsuspecting civilians. Silently, the actors appear in their frames, like monochrome ghosts that come to life. Everyone is monitored.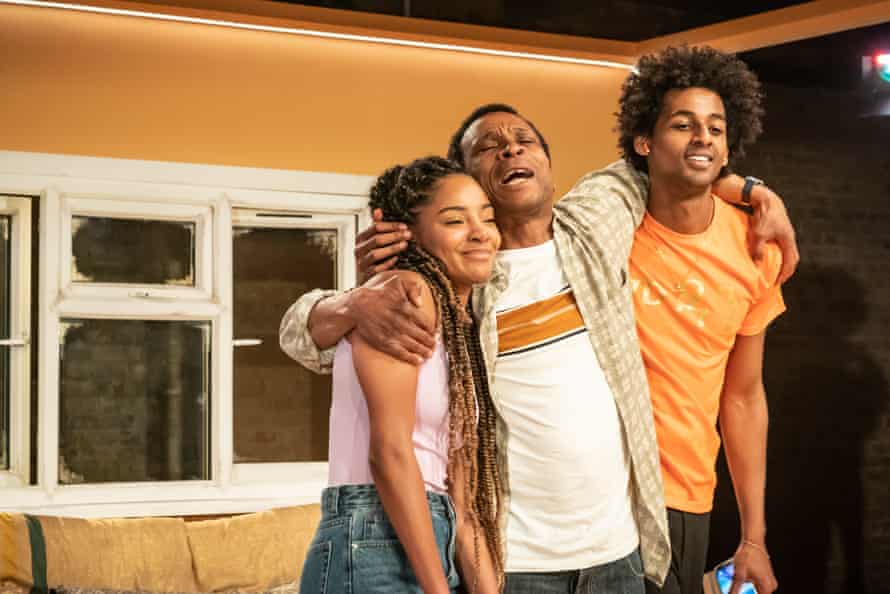 Beru Tessema's insightful debut piece has a troubled center, bouncy dialogue, bright, realistic design (windows stuck on a housing estate) by Frankie Bradshaw, and a gripping performance by fresh grad Michael Workeye, who shuffles across the stage, winding up his pants, spilling his rap, halfway between awkwardness and command. The plot of House of Ife – triggered by the death of a young man partly estranged from his family – unfolds unevenly, at times too overtly, but it has a particular new side highlighted in Lynette Linton's vivid production. The family is split between Addis Ababa and London; each is looking for a life that includes the experience of both countries. And, literally, a language. Amharic, so often heard in the shops and streets of London, has it ever been heard on the English stage? He has now.
Star ratings (out of five)
Oklahoma! ★★★★
unleash Me ★★
House of Ife ★★★
Oklahoma! is at Young Vic, London, until June 25